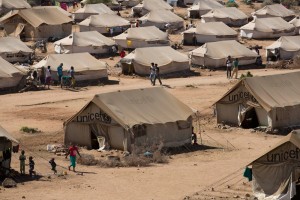 Posted by Ann Corcoran on May 19, 2017
But, are they really persecuted refugees or are they economic migrants from yet another African country whose government is a mess?
And thus the fundamental question for us, as always, is: So why are they our problem?
I did my usual end-of-the-week look at Wrapsnet just now. If you are following my updates in the right hand side bar here at RRW, note that as of today we have admitted 44,888 refugees this fiscal year (the FY ends on September 30th).
Checking the numbers this week I was interested to see that only a little over a quarter of the 813 admitted since last Friday are Muslims. The Syrian numbers are way down (18 of the 22 admitted this week are Muslims). We did admit another 57 Somalis, but of the 49 Iraqis admitted, the vast majority (38) are Yezidis. There were zero Iraqi Christians admitted this past week.
I was also interested to see that our Burmese Muslim numbers are growing with 35 admitted this past week (from 5/12-5/19), but of most interest to me was the large number of Muslims admitted during the week from Eritrea (68!).
I have to admit, I've never really paid any attention to the flow of Eritreans to the US. We know they are one of the larger groups flooding in to Europe mostly passing through Hillary's failed state of Libya, but apparently our US State Department is scooping up a fair number of them as well.
Eritrea and Ethiopia have been on-again, off-again at war forever. Why is that our problem?
One of the 'human rights' complaints about Eritrea is its mandatory conscription to military service, so,again, why is that our problem?
Indeed, many question whether the Eritreans are legitimate "refugees" or are they "economic migrants."
"In refugee law, it can be tricky to draw the line between an economic migrant and someone who is fleeing persecution," says Felix Horne, a researcher at Human Rights Watch. "Eritrea is the best example of that…"
Admissions of Eritreans are on the rise in the US
I explored Wrapsnet a bit to see what we have been doing for about the last ten or so fiscal years with Eritreans and sure enough, the numbers we admit are on the rise.
In FY2008 we admitted only 251. That number jumped to 1,571 in Obama's first year. In 2016 it was 1,949 and, in the first seven and a half months of this fiscal year, the number stands at 1,307.
In the past week, ending this morning, we admitted 90 Eritreans and 68 of those are Muslims. That was the highest ethnic group of Muslims in the week. Are they getting "extreme vetting?"
If we continue to admit 90 a week*** for the remaining weeks of the fiscal year, the Trump Administration could reach 3,000 by September 30th (well above any year during the Obama Administration).
Since FY2007 we admitted 16,897 Eritreans to the US.
There is a lot of useful information in the article I linked above and here from the Council on Foreign Relations if you want to learn more about the Eritrean tide spreading to Europe and America. One of the points that jumped out at me is one we discussed, here, recently.
Note that US dollars sent out of the US economy prop up Eritrea's economy:
Eritreans in the diaspora also contribute to Eritrea's economic survival by sending their families remittances, which provide the country with foreign reserves and keep families afloat.
So, as Syrian and Somali refugee numbers decline slightly, we are seeing an increase in Burmese Rohingya Muslims to the US as well as the Eritreans we have featured in this post.
*** Here is the breakdown of the Eritrean refugee admissions for the week of May 12-May 19, 2017 from Wrapsnet:
https://refugeeresettlementwatch.wordpress.com/2017/05/19/eritreans-top-list-of-muslim-refugees-entering-the-us-this-past-week/#comment-82903