- - -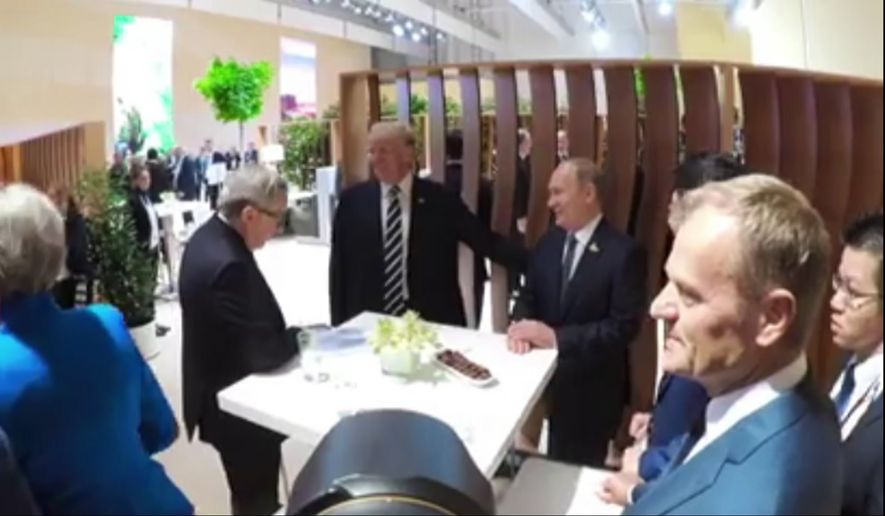 WaTimes
HAMBURG, Germany (AP) — With broad grins and a handshake, President Donald Trump and Russian President Vladimir Putin warmed up for their historic encounter on Friday under the shadow of U.S. outrage about Russian election-meddling and nagging questions about potential Trump campaign collusion.
Ahead of a formal, sit-down meeting, Trump and Putin were seen exchanging pleasantries as a leaders' retreat got under way in Hamburg. As officials gathered around a table, Trump outstretched his hand to Putin and then patted his elbow and both men smiled. A brief video clip shows Trump casually patting Putin on the back as they stand side by side. ...
Well, okay, but were their smiles too "broad"? Trump shakes hands with all leaders and, I've noticed, at some point gently pats them on the back. Anything to spin things into greater significance, but I hope we can get along with Russia.
Russia bears watching but it is not the Soviet Union. I don't expect Russian tanks to plunge into Warsaw any time soon. Ringing Russia with missiles is not wise, just as we would see it as a provocation if Russian missiles were stationed along the Mexican and Canadian borders.
Most of all, I hope Trump and Putin can agree on the best rabies test to conduct on Angela Merkel, 'Destroyer of Europe.'